Wedding planning was fun, but challenging.
"It tested me creatively. Learning to save money through The Master Plan and how to prioritize different elements of our wedding gave me the confidence boost that I needed to get started. Joining the community and bouncing ideas off of other brides and grooms kept me going. I felt supported in sharing my thoughts, feelings, and questions during all hours of the day. As a bride planning her wedding from overseas, the community and all of the wisdom I gained from Jamie's videos were priceless.""
Victoria & Yoshio Nagatani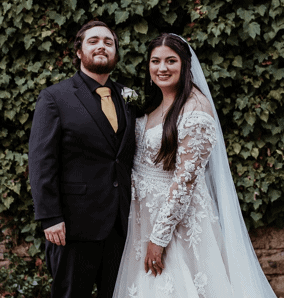 The Master Plan made everything super easy to keep organized!
"I was able to use it to keep an eye on my budget and payments and the DIY checklist was a game changer because I brought in the majority of my decor. I had a pretty easy going planning process"
Madelynn & Devin Shephard