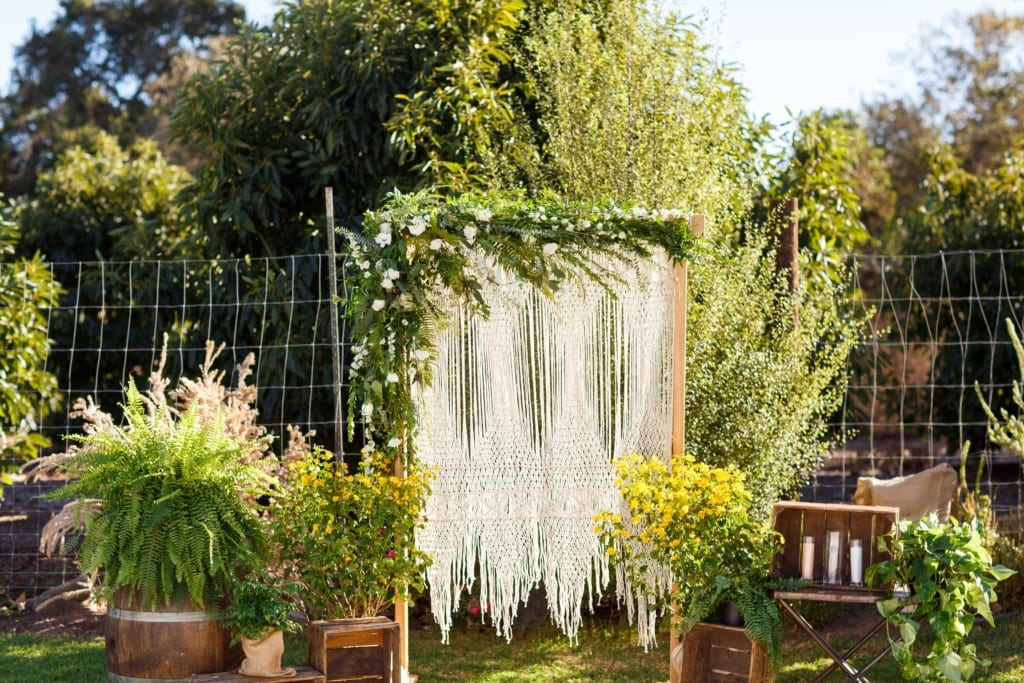 I don't mean to brag, but I am the QUEEN of buying wedding decor that somehow accidentally somehow winds up in my house…
See all that? Yahh, that's stuff from my house. 😬
I swear, I have no idea how it happened.
**A little context: pre-wedding planning, I actually worked in interior design. Which is basically a vvv bougie way of saying I worked for a wholesale antiques dealer and helped designers and store owners put together vignettes and curate stunning spaces with one-of-a-kind pieces. It was sweaty and enthralling and magical, working day in and day out with stunning, unique imports that gave me an unending desire to constantly create pretty spaces.**
But I was broke. Like so so broke.
The literal embodiment of champagne taste on a beer budget. I could drool over the pretties but could afford like none of it. So when I started planning our wedding, I did something a little devious. ((I mean, my husband knew full well what I was doing, but it still felt like I was cheating the system.))
I bought stuff for my wedding that I could re-use in our home. Talk about a wedding hack, amirite.
And sure, it's super sustainable, saves you money, and the ever-present thrill of saying "Oh, that old thing? It was at our wedding!" But who are we kidding, that was NOT my motive. I wanted to buy pretty things and just used my our wedding as the perfect excuse.
(I also ended up doing this for weddings I've designed, so to say I'm a *serial repurposer* is an understatement.)
So naturally, I rounded up some of the BEST items to buy for your Wedding ::coughandhomecough::
Rugs, baby. All the rugs.
From your aisle runner to under your sweetheart table, SEIZE THIS MOMENT. Rugs can be $$$, so be sure to take full advantage of local thrift/antique haunts and resale websites like Craigslist and Facebook Marketplace.
I've personally done this with thin runners, layered large rugs, and even cowhides.
Shop my fave wedding day rugs here.
Lounge setssss.
I'm talking settees//chairs//coffee table//pillows//blankets//etc. So. Many. Things. fall into this category, it's not even funny. In fact, make sure you don't go too ham here. I know, I'm stoking this big ol' fire and then tossing a governor on it, buuuttt the limit does exist here.
ALSO DISCLAIMER: We're talking some pretty bulky furniture here. Before you make ANY plans to have large sofas moved about, make sure you have a solid delivery plan, set up and tear down crew, and a way to get it back to your house. It's more work than it sounds.
Backdrops can be anything. Like truly anything.
Maybe your first apartment needs drapes. Frame that dessert table, sis.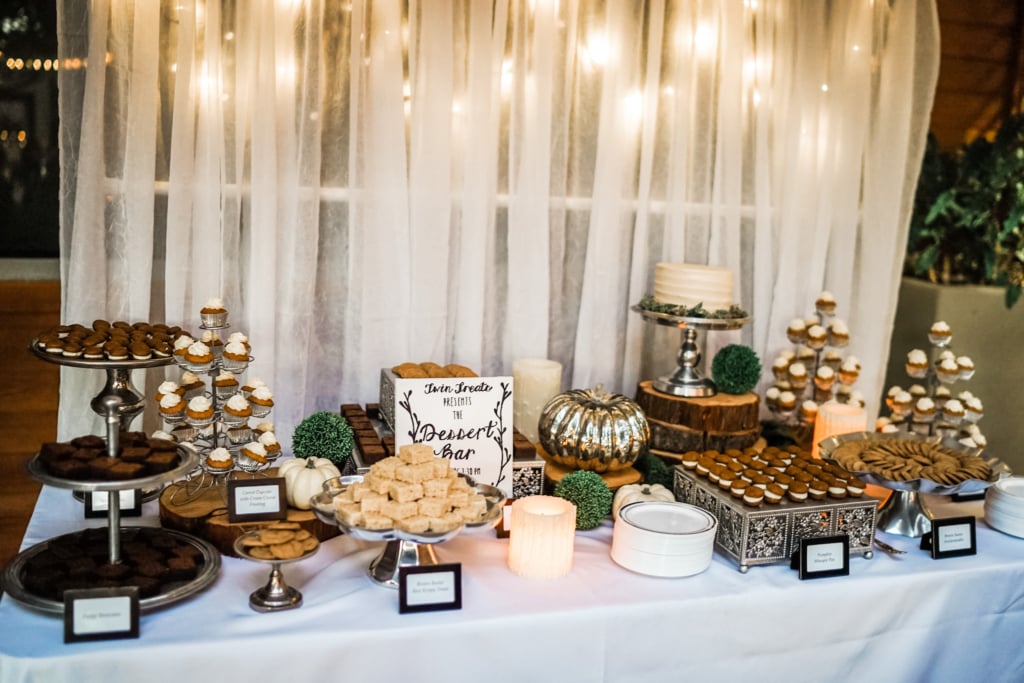 Maybe you need a new headboard. Snag a room divider for your seating chart.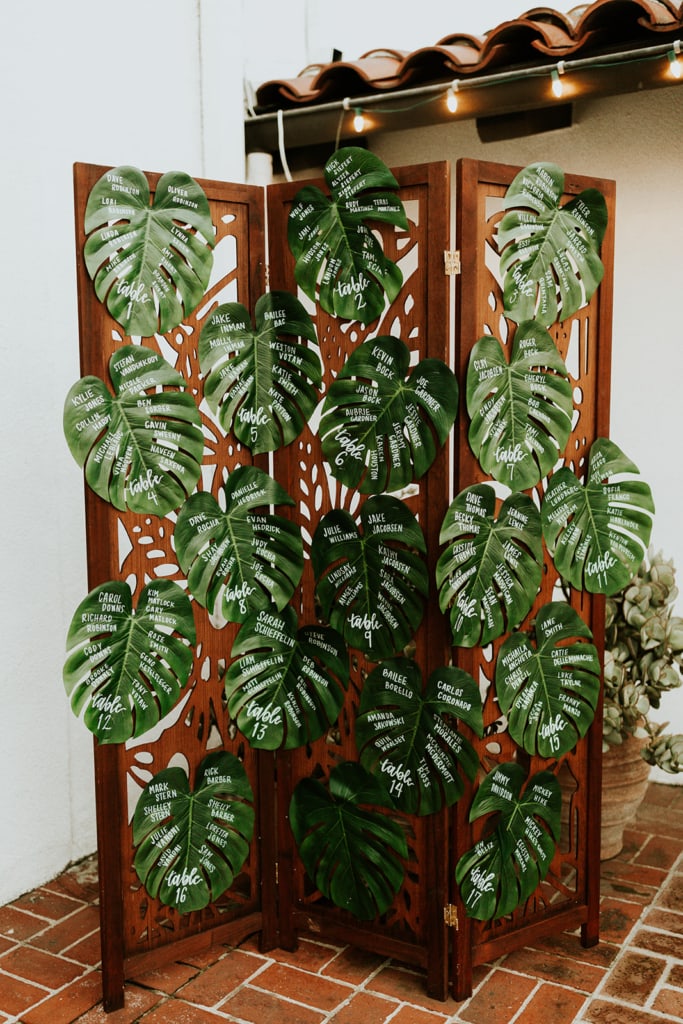 Maybe you've been eyeballing that macrame piece on Etsy.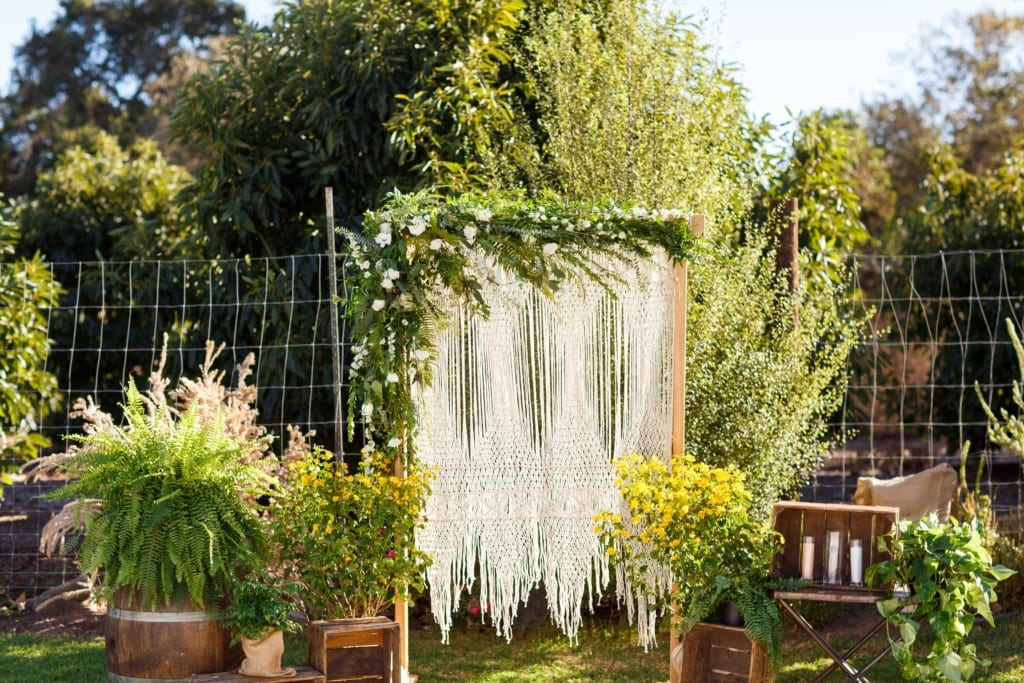 Maybe you have a ton of books and trinkets. That shelf would look pretty cool behind your bar. (👀👀)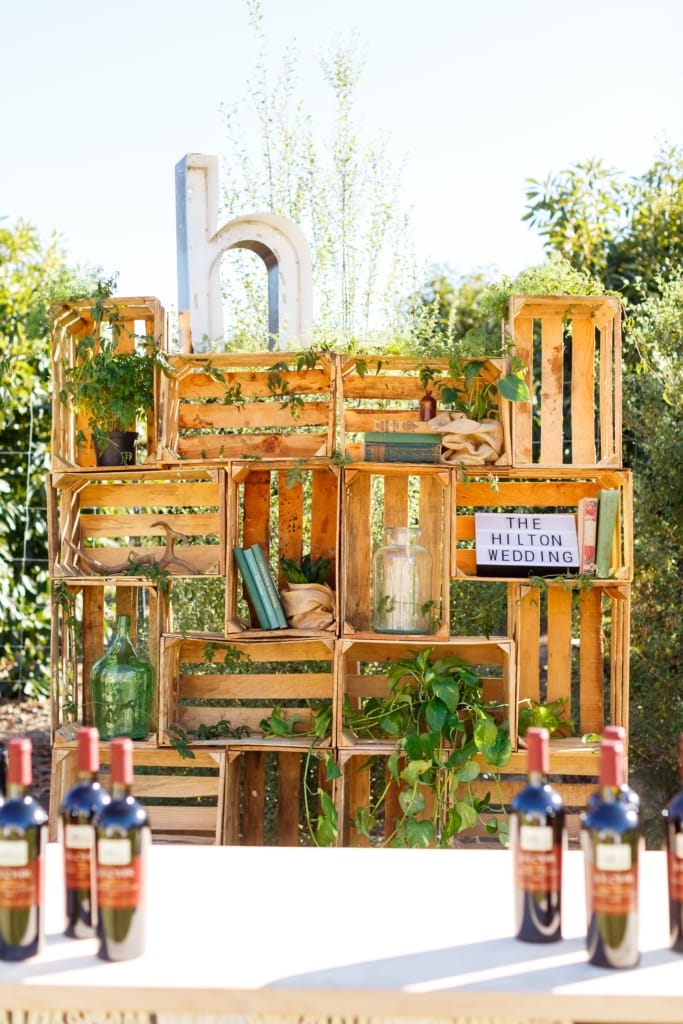 And my favorite concept that I'm literally dying to employ asap – removable wallpaper. Imagine this with me: rigid insulation panels at 4'x8' (found at most home improvement stores) with double sided tape. It would need to be transported and set up *very carefully* but *very worth it.*
I can't even find any good inspo pics because almost no one has done this, but I've rounded up my fave removal wallpapers here (along with allll the dreamy backdrop ideas).
Light up the night.
Candles are obviously the easiest choice here. Pillars, votives, candlesticks… these are all very easily repurposed into your home later.
But we're sneakier than that. Think bigger. Floor lamp in the lounge area. Tabletop lamp next to your guest book. String lights over your dancefloor. Chandelier over your head table.
** As always, think through installation and removal for these ahead of time. But then bask in their warm glow for years to come.
Shop the best/most affordable candles + string lights.
Sign me up.
You probably immediately pictured those sandwich board chalkboard easels or felted letter boards, and there's nothing wrong with those. BUT what if you scored a floor length mirror insead?
Or an epic piece of framed art with some removable vinyl?
Or a collection of cloches + carboys + vases as a seating chart?
You're welcome and I'm sorry.
Houseplants.
I mean, it literally says house in the name. You have to. I FEEL LIKE I HAVE TRAINED FOR THIS MOMENT.
Step into my office. 🚪🌿
Houseplants are an incredible texture to add to your wedding day. But we should probably cover some ground rules first.
First, choose a hearty plant. Think thicker stalks and waxy leaves. They'll stand up better to transport and a bit of bashing about, and won't wilt if touched by the sun.
Second, they may get sunburnt. Yes, that's a real thing. If a plant is used to greenhouse/big box store conditions, it may not have actually *felt* sunlight on it's leaves. If it is not gradually introduced to direct sunlight, you could likely see sunburned leaves after your wedding.
This won't kill it, it's just not cute and will need a little tlc later.
Third, water well before for better odds later. You obviously want a robust plant bb to display, and you want it to survive the rigors of the biggest day of their (and probably your) lives.
If you want to see my favorite houseplants to use on your wedding day, click here.
Anything else you can think of.
Honestly, the only thing that would stop you here is your own creativity. Because if you try hard enough, and believe in yourself, anything can be wedding/home decor.
Here's a list of more obscure items I've used at weddings that live in my home today:
Suitcases
Books
Vintage cameras
Large ladders
Dining table (pretty sweet sweetheart table, imo)
Bar cart
Stadium seats
Locker bins
Hat boxes
Skulls + Antlers (it worked, just trust me)
Teapots + Kettles
Bread boards
Baskets + buckets
Microscope + Science-y equipment (outta left field, but it worked sooo well)
Marquis letters
Locker bins + drawers
Multi-colored glassware
Thrifted china
Vintage + Modern fruit crates
Poufs + ottomans
And a globe because why not.
I guarantee you I'm forgetting at least 12 things, but I think we've established the point.
Your wedding day should be a reflection of who you and your fiance are, and how you do/will decorate your home is a huge part of that. From the rug under your couch to the art you hang in the hallway, getting creative with your wedding decor will not only shape your sweet home, but create a wedding day look that is and will forever be uniquely yours.
What will YOU be repurposing in your home?