Hey there Lovely Human!
Planning a wedding can be expensive. Costs can add up quickly. If you are trying to get an event done on a specific budget, that can sometimes require a few sacrifices.
I've compiled a list of 19 tips below that you can use to help you cut costs on your wedding day. I encourage you to apply as many of these tips as possible if you want to save the maximum amount of money!
1. Stick to your budget!
This is super important. The second you start making allowances outside of your budget in one category, you are borrowing from something else.
It might be okay if you need to spend a little more on say the venue, photographer, or music. You could likely make up that additional cost on doing a little DIY decor or skipping a few other little things. Just be careful not to go over budget in too many places. No one wants to start their married life in debt from their wedding!
Struggling to stick with your budget or to even know where to start? Consider joining The Master Plan and let Jamie guide you step-by-step all the way through!
2. Be prepared for unforeseen costs.
Budget a buffer. There are taxes, gratuities, and oftentimes hidden fees associated with a few of your vendors. Be sure to ask for potential costs that may pop up and plan for about a 5-10% cost overage just in case.
3. Do not use an all-inclusive venue.
All-inclusive venues will be more expensive. That is because they generally don't allow you to bring in any of your own vendors. They have a set group of vendors that you can work with and you lose the opportunity to bring in someone who may be cheaper that you like better.
Here is a YouTube video I created to explain the difference between wedding venue options.
4. Think about getting more economical wedding rings.
I am a huge fan of fake/lab made diamonds. They are just as sparkly and stunning as the real thing, but at a fraction of the cost. They are more ethically friendly as well.
Even cubic zirconia has come a long way in the last decade or so don't count it out until you really take a look at a few options! You can save thousands of dollars on the rings to put towards another part of your wedding.
Here is one of our favorite jewelry vendors Charles & Colvard.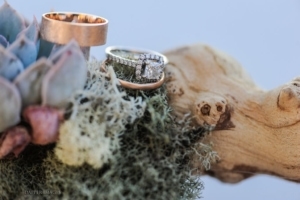 5. Consider buying a used dress, a dress off the rack, or a dress on sale.
If the dress is your thing, make sure to budget for it. But if you're willing to be a little open-minded on other options, this is a great cost-saving opportunity.
For me personally, I purchased my wedding dress for $300. Then I spent about $150 with a local tailor who made it fit me like a glove and I felt absolutely beautiful!
A few dress companies we love are Cocomelody, Kennedy Blue, and Nearly Newlywed.
6. Use a local cosmetology school to get your hair and makeup done.
Another great money saving opportunity. While you can have most of your bridesmaids do their own hair or their own makeup, it's still going to cost you upwards of $250 to have a seasoned pro do your hair and makeup for the big day.
A suggestion instead is to go to your local cosmetology school and see if there is a student there that can do it for a discounted rate or ask a makeup savvy friend to help.
I've also had brides go to a blow-out bar which is a salon that just styles your hair. You could bring your bridesmaids with you and have a great experience out of it and save a lot of money in the end!
7. Try to keep your wedding party small.
This one is easier for some, and not so easy for others.
I had 10 and my husband had 11 so just take it from my experience, it ended up being a fairly costly thing for us. This is mostly because we insisted on giving each person a gift for being in the wedding. At $20 a person, that was over $400 worth of stuff that we chose to buy to show our wedding party our appreciation.
So, to cut down on cost you could either keep the wedding party small or maybe skip the gifts.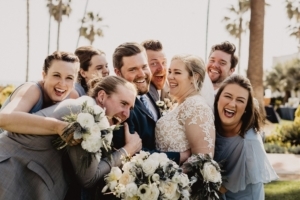 8. Cut your guest count!
Limit your guest count to people who have been actively involved in your relationship in the last six months to 5 years. If you have a childhood best friend you haven't seen in the last decade, they don't get to come.
Invitation etiquette says that you need to invite engaged people and married people, but you do not need to give single guests the plus one option. That can easily cut a dozen or so people from the list!
9. Skip the Save-the-Dates.
While they are super cute and very fun to put together, you don't technically need to do them. You just need to be a little bit more prepared ahead of time to send out your invitations. You don't need to send out magnets for people to put on their fridge. Sure, it's cute, it's fun, but it's unnecessary.
Here is a video of 12 other things your guests really don't care about and could cut out to save money if you want to!
10. Have your guests RSVP online.
Just like save-the-dates, having RSVP cards mailed back to you means that you have to put stamps on them. The cost on all those stamps adds up. So save yourself a little bit of paper, printing, the cost of stamps, and instead just have your guests RSVP online.
11. Cut the photographer and/or videographer hours.
The magic number for photographers and videographers seems to be around eight hours. While that package guarantees you will capture almost everything, you don't necessarily need them for that long.
Ask if they will offer you a package with six hours instead of eight (two hours could equal a couple hundred dollars saved).
Sure, you may miss out on some of the dancing photos at the end, but let's be honest, you don't print those out anyway. At that point it's okay to bust out the phones and snap away!
12. DIY some of your decor!
This is a great opportunity to bring together all of your crafty friends and creative family members! Get creative together on signs, centerpieces, decor, florals, and more.
I personally suggest sticking with 60% done by professional vendors and 40% do-it-yourself. I have found that if you do any more DIY than that, you're going to start to feel a little overwhelmed.
Here are a couple DIY videos I made for you, a balloon arch and a modern boho wedding sign, where I show you how to make items yourself!
13. Reuse florals as much as possible.
If you're having an arbor piece done, ask your florist if they will repurpose that piece later for your sweetheart table or your head table.
Another great opportunity is using the bridesmaid bouquets on tables as the centerpiece flowers. Just have some empty vases with water set out and ready! Take advantage of the opportunity and dress up some places that may need some florals with arrangements you used for the ceremony and photos earlier in the day.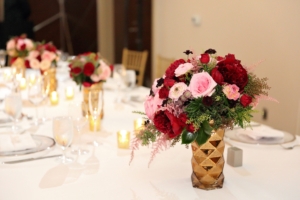 14. Do a dessert table instead of an elaborate wedding cake.
Dessert tables are the way to go. At my wedding, we opted for a dessert table with a bunch of adorable, bite-sized desserts that made everyone happy. We had a small cutting cake just for us so we could still have that photo-moment.
If you go with a large wedding cake and/or some sheet cakes, you may have to pay the venue staff to cut it, plate it, and serve it. Those man hours add up! When you have the dessert table, none of that applies because there is no cutting and no serving. It's just there, looking all beautiful and delicious!
Check out this video I made of an amazing DIY dessert table for less than $150!
15. Skip the lavish lounge.
Forget the lounge. They look super cute on Pinterest and they seem like a fun idea, because they are! A lounge area is a great way to escape the noise of an event and chill for a bit.
But this is something you could easily skip. They generally cost a chunk of money to do right, they take up a bunch of space, and are time consuming to set-up and take down. I say, skip it.
16. Scale back on the alcohol.
Booze is expensive! Instead of having a full bar or a hosted bar, you could do a cash bar. Some people may think that is a bit tacky, but it's really up to you to decide.
You could do a full bar during cocktail hour and only beer and wine for the rest of the evening. Or my favorite, just do beer and wine for the entire event.
If you really want to, maybe you can throw in a signature drink there too, but honestly, I'd suggest just sticking to wine and beer.
I also strongly suggest skipping the champagne toast and tableside wine service. Just have guests toast with the drinks they already have in their hand. No one will notice if you skip the wine service at the table, a lot of the time the wine just goes to waste anyway.
17. Skip all the personalized printed stationery.
Printed stationery items at your wedding include programs, menus, escort cards, things of that nature. You don't have to have them. They look beautiful in pictures, but those costs add up quickly!
Hiring a calligrapher to handwrite invitations or outsourcing to a printing company to have cards letter-pressed are small details that typically go unnoticed by your guests.
So unless you feel a gut-wrenching need to have printed programs in every single seat and menus at every single table, I say, skip it!
Here is a video where I talk about one of my very most favorite things – my Cricut! In this video I talk about creating a backdrop, but you can certainly make beautiful invites and all other paper goods using one as well. Check out their products HERE!
18. Forget the guest party favors.
Another thing that guests don't miss at weddings are party favors. You don't need them. It costs a lot of money and it's an antiquated tradition. Forget about party favors.
19. Hire a Wedding Coordinator.
Having a Wedding Coordinator will save you money. They cost money, but they also save you money.
Their connections and knowledge in the wedding industry will likely save you money. They will know the appropriate prices for goods and services and will know right away if a vendor is trying to overcharge you.
In almost all aspects of your wedding they will help steer you in the right direction. Typically, coordinators end up paying for themselves…and then some.
Here's a little video of me explaining why you really need to seriously consider at least a day-of wedding coordinator my friends.
So, let's wrap up!
If you loved this blog, check out the YouTube version HERE! I also have another great video where I teach you how to negotiate with your vendors for a better (aka cheaper) price.
If you want a wedding planner without the wedding planner price, consider joining The Master Plan and I'll walk you through your event step-by-step virtually! I also do quarterly LIVE phone calls with my Master Plan peeps.
Join our amazing community on Facebook where other couples planning their wedding are all there supporting each other and giving each other killer advice. (Talk about weddings all darn day with these people when your co-workers are losing their enthusiasm…)