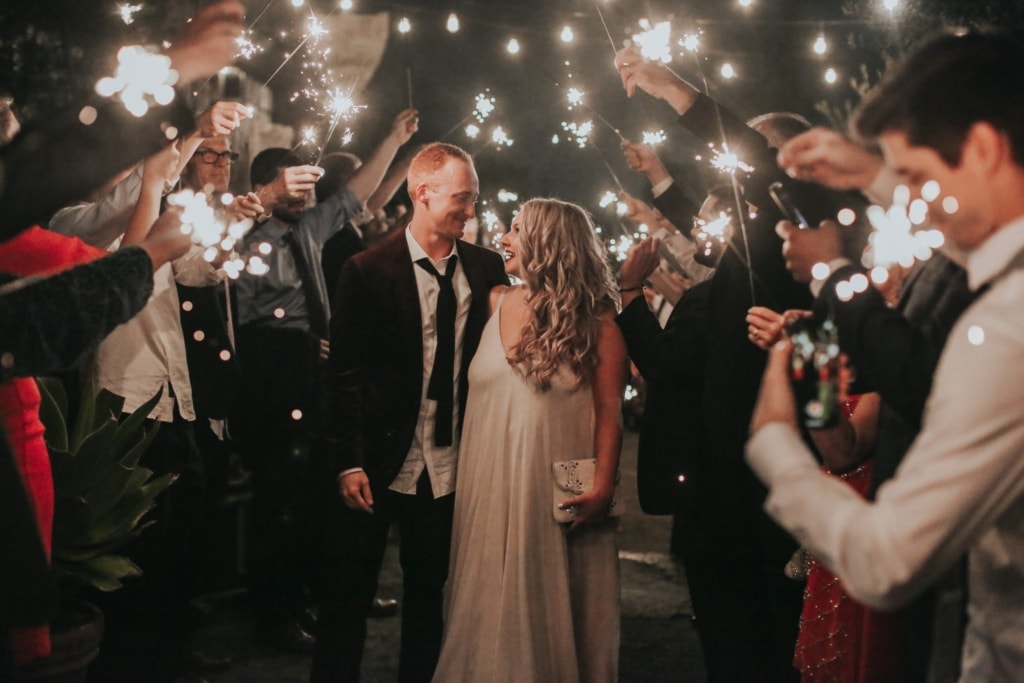 The first time you go to a venue it can be a bit overwhelming. There are so many details that go into selecting the best place to suit your needs. 
Below you'll find an extensive list of very important questions that you should be asking at a venue walkthrough to help you know if the space will work for your event. So buckle up, buttercup. We've got some prepping to do.
PLEASE NOTE: The Master Plan not only includes all these Q's as a downloadable PDF to take with you (can I get an amen??) but offers wayyyy more in depth strategies for finding the right venue for YOU.
These questions are divided into three categories:
The Contract
The Logistics
The Vendors & Rentals
So, without further ado, let's jump on into it!
The Contract
How many hours are included in the actual rental? 
Figure out how much time you will be at the venue for the actual event, then add about 3-4 hours.  It generally takes about two hours for setup and about one hour for tear down (if you have a good crew working with you).
Will there be venue staff on-site throughout the entirety of the event?
You would think that this would be an automatic yes, but that's not always the case. Find out if there will be a venue manager, coordinator or site manager available from set-up to tear-down. You want someone there who knows the venue well enough to help with anything that may arise. (Tripped breaker, sprinklers come on at a bad time, door gets locked, etc.)
Can you have the rehearsal on-site?
This is included with most venues, but some may not allow you to rehearse if they have another event happening the night before. Also ask if you can have a rehearsal dinner on-site. Sometimes they charge extra or sometimes they only allow for you to do a rehearsal, but not have the actual meal there.
Are there any noise ordinances?
This applies to most events that are happening outside. Find out what time all amplified music outside must end.
Who is required to have liability insurance?
DON'T PANIC WHEN YOU HEAR THIS. I know this part sounds super scary since most often it's in the amount of $1 million, but I promise you, it's super inexpensive and easy to get. My favorite places are theeventhelper.com and wedsafe.com if you need one.
If insurance is required for your vendors, it's generally for those present throughout the entirety of the event (and they will get it themselves, but may need some gentle reminding). For example, your florist will not need to have it, because they are likely just dropping the flowers off and doing a short install, then leaving. Your coordinator, photographer, videographer, photo booth, and caterers, however, may be required to carry it.
Is any security provided?
I always think it's a good idea, especially when alcohol is involved, to have some sort of security personnel around just in case things get out of hand. Very rarely is it required, but I'd strongly recommend it.
The Logistics
What are the rules for the loading/unloading/parking and where are they located?
Where can vendors who are unloading supplies park to unload all of those items? Sometimes it's quite a distance from the loading zone to where the actual event is taking place, so it's always helpful to let your vendors know if they're not going to be really close.
Also, is there ample parking for the amount of guests that you're going to invite? Generally count one car for every two guests, but don't forget to count your vendors! Consider the photographer and second shooter may arrive in separate vehicles, as well service staff, coordinators, etc.
Also, can vehicles be left there overnight? You may not need this option, but it is always wise to check. Just in case.
Where is the parking and accommodations for guests using walkers or wheelchairs?
Make sure that they have easy access to the ceremony and reception spaces. The restrooms should also be accessible to everyone and within a reasonably close distance.
What weather related accommodations do they offer?
Will there be a coat check available if needed? If your guests are outside for any period of time, will there be space heaters provided or available to rent directly from the venue? Do they provide a rain contingency plan, or is that something that you'll need to supply yourself? *Tents can be extremely expensive to rent and usually require a large deposit, so consider all avenues thoroughly before dropping any non-refundable monies.
Are there on-site options for the couple to get ready? 
Some venues have rooms available, some don't. If they do have rooms, is that included in your previously allotted rental time, or do you need to add on extra hours to make sure you have plenty of time to get ready? 
While you're there, if they do have those rooms available, go take a look at them.  Do they have the things you want/need like large mirrors for the girls to get ready and plenty of power outlets? Is there air conditioning/is it sufficiently cooled? If not, you're going to want to bring in some fans. We all know it gets very hot when you're getting ready surrounded by steaming hair tools galore.
What will the lighting be like during the day? The night? 
You'll most likely be walking through the space during the daytime, so that part will be obvio, but don't forget to ask what the lighting will be like at night. Look around for overhead and up-lighting.  Think about where you will set-up things like food, a photo booth, or any other area that needs ample lighting.  Every element of your event should be well lit when night falls (except for maybe the dance floor while you're busting moves, but it will still need to be well lit post-boogie to ensure proper cleaning).
Where are the outlets located? 
With many different vendors drawing power (think caterer, photo booth, DJ), they're going to need to know where they can set up camp. Also, make sure all of that power is evenly distributed so not everyone is using the same outlet/breaker. If you all of a sudden lose power to one section of the reception space, will there be someone on-site to help you fix that?
Where are the restrooms located?
If it's a long hike between either the ceremony space or the reception space to get to the restrooms, you may need to consider bringing in additional trailer restrooms.  There are some really cool trailer bathrooms out there, so don't think gross blue porta-potty. These sleek stalls usually look like the bathroom in your home! 
Generally speaking you want one bathroom for every 30-50 guests. So if there's only one bathroom and you have invited 150 people… you might need plan number two (I couldn't help myself).
What is the standard layout at the venue?
How does the venue typically set-up the ceremony, cocktail hour, and reception spaces? Within those spaces, ask how they typically angle the chairs and where they put the tables. Where is a good spot for the photo booth, DJ, dessert tables, gift tables, etc.
Get a good idea on the general layout, maybe even bring some paper to sketch it! If you lack any sort of artistic ability (girl same) they should have a blank layout for you to tinker with. Or even better, their layout could be on AllSeated.com and take all the guesswork out!
How many events do they have on-site per day?
Most of the time it's just one (and that will probably be preeeetttyyy obvious in many locations) but some places actually have multiple sites on their property so they can host multiple events. 
While that's great for them, this should cause you to ask additional questions about bathrooms, parking, and on-site management assistance if there are issues. Make sure you feel comfortable with what they can offer you while multiple events are happening at the same time.
Does the venue provide any support for tear-down? What are you/your vendors expected to do? 
If the venue provides the tables, chairs, and linens, they likely will tear those down for you. If not, you're going to need to outsource this task to the rental company. Some venues require that someone remove's all the trash from the premises (yes, we're serious), so you may need to assign trash duty to one of your vendors, likely your caterer. 
Asking these Q's ahead of time will make for a clear delineation of duties, and hopefully prevent last minute cleaning disasters and fees.
The Vendors & Rentals
Is there catering offered on-site?
If not, are you allowed to bring in whatever caterer you want or do you have to choose from a set list of preferred vendors? I've seen MANY COUPLES get locked in a contract with a caterer well beyond their means because they didn't ask this. exact. question.
Is any cooking allowed on-site? Do they have a food prep space? Do they have a full kitchen or do you need to provide one for your caterer to use (this gets real expensive real fast)? Is there a room with a sink? Is there a refrigerator that you have access to? All very important questions to ask!
What are the alcohol restrictions?
While a lot of venues will allow you to have a completely open bar, and some venues will not. Some will say you cannot have kegs or hard alcohol, but you can do beer and wine. Some allow champagne, some don't. It feels a little wacky, but they usually have some pretty solid reasoning for not allowing certain types of drinks (read: they've seen some things). But for you and yours, this could seriously sway your decision on picking a venue, especially if you're looking to host a full bar.
Occasionally there will be something called a "corkage fee" where they charge a small fee for every bottle that's open or for every guest there.  Again, be sure to find out about all fees before signing a contract.
What are the decoration rules and restrictions?
The decor is such a major part of making the space look unique to you and your wedding theme. Ask a lot of questions about HOW you are allowed to decorate.
Can you hang anything? If so, what medium can you use to hang those items? Can you use tape or thumb tacks? Most places ask that you don't attach anything in any way that could harm any portion of the venue. So that's no tape, no glue, no nails, nothing. So, if you do need to attach anything, my favorite methods are zip ties, twine or string, and my all-time fave- painters tape. 
*There can liability issues if anyone gets on a ladder, so if you want to hang stuff, bring this up.*
What are you allowed to do for your grand exit?
Can you use sparklers, confetti, or bubbles? Each venue will have their own rules. Just be sure to ask, not assume. Sparklers are a known fire hazard and are often not permitted. Confetti makes a big mess that can come with a massive cleaning fee.  Bubbles may potentially be okay, but can cause a slipping hazard indoors. 
Remember, be flexible with your ideas, and find out what is even permitted before you get your heart set on fire-wielding baton twirlers.
What rentals come with the site?
Venues may offer chairs, tables, linens, napkins, dinner china, and/or flatware. Some even boast a decor room you can use as well!
For those that provide chairs, be sure to look at them AND sit in them before you agree to them. They could be funky looking, or verrrryyy uncomfortable, which obvs isn't ideal.
If they offer tables, what sizes do they offer and how many of each?
Not having to source rentals is awesome, but that doesn't always make things cheaper, so keep crunching and comparing those numbers.
Oh, and if the venue doesn't offer rentals, ask who they prefer/recommend! One less vendor for you to hunt down, eh?
What audio/visual equipment comes with the space?
Last, but not least, ask if there are speakers or AV equipment available. Sometimes there are house speakers that are available for use, which is awesome!  Your DJ may be able to just plug into the house speakers, no problem, or it could be an absolute hassle. But it only helps to be informed with all your options.
PHEW WE MADE IT. You ready to tackle this venue search now?
I hope this fairly comprehensive list helps you feel like the confident, radiant soul you are. Securing a venue is a HUGE part of the planning process, so make sure you ask a lot of questions and I promise you will find the MOST AMAZING SPOT for your Big Day.
I have a great venue walk through video here –> 20 Questions You Must Ask At Your Venue Walk Thru
If you want a wedding planner without the wedding planner price, consider joining The Master Plan and I'll walk you through your event every step of the way, virtually! As a member, you will also gain access to my quarterly LIVE phone calls.
Also be sure to join our amazing community on Facebook! There you will find thousands of couples planning their wedding along-side you. They are all in there supporting each other, giving each other great advice, sharing amazing referrals, and handing out tons of virtual hugs!